Greenway Court Theater
Latino Heritage Month 2012 Production

Cast and Crew
Starring
RENÉ RIVERA*
Written by
STACEY MARTINO
Directed by
SAL ROMEO
Lighting Design.......................................... JEREMY PIVNICK**
Set Design..............................................DANUTA TOMZYNSKI
Set Builder............................................. MICHAEL BRAINARD
Projection Design.........................................ADAM FLEMMING
Sound Engineer and Design.......................DAVID B. MARLING
Co - Stage Manager..................................MAURIE GONZALEZ
Co - Stage Manager...............................HEATHER GONZALEZ
Technical Director.....................................JEFFREY PORTER
Program Graphic Design.......................JUSTIN QUISUMBING
Webmaster, Postcard & Graphic Design....ERIK J. GOODRICH
Original Artwork...................................ASTRID CHEVALLIER
Director of Development............................ ADRIANA MILLAN
Director of Community Outreach....................JULIA DECKER
Producers
PIERSON BLAETZ, WHITNEY WESTON, DAN FRIEDMAN, HEATHER MENDOZA & STACEY MARTINO
This production was made possible in part by PEGGY MCKAY
* Appears courtesy of Actors Equity Association
**Member of United Scenic Artists
Celebrating NATIONAL LATINO HERITAGE MONTH
Each year, Americans observe National Hispanic Heritage Month from September 15 to October 15, by celebrating the histories, cultures and contributions of American citizens whose ancestors came from Spain, Mexico, the Caribbean and Central and South America. The observation started in 1968 as Hispanic Heritage Week under President Lyndon Johnson and was expanded by President Ronald Reagan in 1988 to cover a 30-day period starting on September 15 and ending on October 15. It was enacted into law on August 17, 1988, on the approval of Public Law 100-402. The day of September 15 is significant because it is the anniversary of independence for Latin American countries Costa Rica, El Salvador, Guatemala, Honduras and Nicaragua. In addition, Mexico and Chile celebrate their independence days on September 16 and September 18, respectively. Also, Columbus Day or Día de la Raza, which is October 12, falls within this 30 day period.
The Milagros Exhibit in the Lobby
(Featured children's artwork, courtesy of NLCI - National Latino Children's Institute) is a cultural
vehicle designed to provide a forum for the voices of children. The word "milagros," or miracle, represents an ancient tradition of hanging small photos, symbols, and supplications in the churches of Latin America. Children design and create artistic messages about their wishes, dreams, or desires.
For more information, please visit www.nlci.org
Opening Night Ceremony Friday Sept 14...

Artworks of LALO GARCIA in Lobby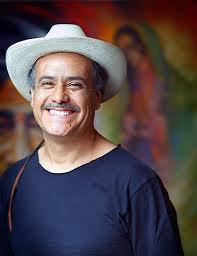 Born in La Cieneguita, a small rancho in the state of Michoacan, Mexico, and raised since the age of 13 in the San Fernando Valley, north of downtown Los Angeles, celebrated artist Lalo Garcia has spent 35 years immersed in the world of art. Garcia's love for his native culture combined with his faith and commitment to preserving the folklore of Mexico are reflected in his unique compositions. Garcia's work has been permanently placed in sacred spaces throughout Los Angeles and the United States. Currently, Garcia is one of eleven commissioned artists selected by the Archdiocese of Los Angeles to create artwork for the Los Angeles Cathedral of the Angels, a major historic landmark.

Performance by BALLET FOLKLORICO OLLIN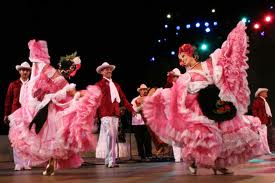 Internationally recognized as the premier Mexican folk dance ensemble, Ballet Folklorico Ollin provides an exhilarating, artistic tribute to the magnificent traditions of Mexico's diverse music and dance culture. The company continues to excel at promoting Mexican history through the art of performance with professionalism. Ollin's mission is to preserve Mexico's valuable folklore with future generations and is committed to community involvement.