El Portal Theatre
Latino Heritage Month 2011 Production
Cast and Crew
Starring
RENÉ RIVERA*
Written by
STACEY MARTINO
Directed by
SAL ROMEO
Lighting Design.......................................... JEREMY PIVNICK**
Set Design........DANUTA TOMZYNSKI & MICHAEL BRAINARD
Video Artist.................................................................MAT HALE
Sound Engineer and Design.......................DAVID B. MARLING
Sound Design......................JADE PUGA & RICHARD MONTES
Stage Manager..........................................MAURIE GONZALEZ
Associate Producer..................................HEATHER MENDOZA
Director of Development................................ ADRIANA MILLAN
Production Intern...............................................HELEN ARDON
Graphic Artist...........................................ASTRID CHEVALLIER
Webmaster, Postcard & Graphic Design.....ERIK J. GOODRICH
Web SEO and Enhancer.............................. JACK REYNOLDS
Production Photographer......................................ED KRIEGER
Press Representative.....STEVE MOYER PUBLIC RELATIONS
Producers
DAVID LLAUGER-MEISELMAN & STACEY MARTINO
October 27- December 4, 2011 at The El Portal Theatre
5269 Lankershim Blvd., North Hollywood, CA 91601
* Appears courtesy of Actors Equity Association
**Member of United Scenic Artists
The Critically Acclaimed "The King of the Desert" will be remounted under the auspices of Award Winning and Actors Studio PD Unit Member director, Sal Romeo, during National Latino Heritage Month, Fall 2011.
The new production will be produced by The American Latino Theatre and Coactive Content. The new Production will reach hundreds of local Los Angeles school children in addition to diverse cultural communities.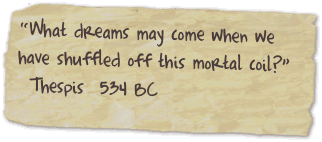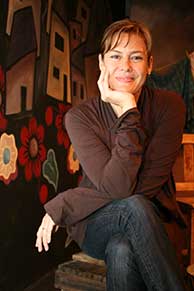 AUTHOR'S NOTE
"The King Of The Desert" grew out of my hunger to understand my husband's life and to learn about my daughter's Mexican American heritage. It was my own journey into the past in order to bring our family closer and alchemize the more difficult aspects of life. It grew into a wish to empower other people with similar stories across diverse communities. It is a story that weaves together my version of my husband's mythology, stories his family shared with me, and a rich cultural lineage that deserves to be explored at this time in America. It is my greatest hope that this play not only provides insights into a unique culture but reminds us how much we have in common as human beings.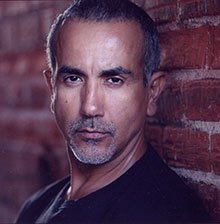 ABOUT THE ACTOR
René Rivera (Performer), a lifetime member of the Actors Studio, has performed extensively as an actor on both the East and West Coasts. He has appeared on Broadway at the Circle in the Square in "Salome" starring and directed by Al Pacino.
Rivera's Off-Broadway credits include: "Richard II" directed by Stephen Berkoff at the Public Theater; "In the Jungle of Cities" directed by Anne Bogart at The Public Theater; "Henry IV, Parts 1 and 2" directed by JoAnne Akalaitas at The Public Theater; "Hamlet" directed by Kevin Kline at The Public Theater in New York, Huntington Theatre in Boston and on PBS; "The Way of the World" directed by David Greenspan at The Public Theater; "Romeo and Juliet", "MacBeth" and "As You Like It. " all directed by Estelle Parsons at the Belasco Theatre.
Regional theater credits include appearing in productions of the "Boleros for the Disenchanted" at the Goodman Theatre in Chicago; "The House of Blue Leaves" at the Coconut Grove Theater; Don Juan at the Baltimore's Center Stage directed by Irene Lewis; "Hamlet" at the Boston's Huntington Theatre; "Salome" at the Wadsworth Theatre in Los Angeles; "True West" at Portland's Center Stage; "Twelfth Night" in San Antonio's Sunken Gardens Theater; "They Shoot Horses, Don't They?" At Greenway Court Theatre in Los Angeles directed by Rick Sparks, and "The Merchant of Venice" in Chicago, London, Hamburg, and Paris, under the direction of Peter Sellars.
Rivera's film credits include: "Disturbia," "Before Night Falls," "Border Town, "Oranges," "Break a Leg," "Lords of Dogtown," "The Salton Sea," "Me and Him," "Light Sleeper," "Carlito's Way," and "It Could Happen To You," among others. He recently completed production on his latest film, "Wild Salome," starring, directed and written by Al Pacino.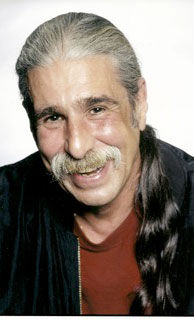 ABOUT THE DIRECTOR
Director Sal Romeo's career as an educator, director and producer spans 30 years in New York and Los Angeles. A noted authority on the Stanislavski System, he has trained actors through the work of Lee Strasberg, Stanford Meisner, Jerzy Grotowski and Kristen Linklater among others. He has produced/directed over 100 plays, 90 TV episodes and 2 feature films. His work has been honored with 41 various critic's awards.