About CoActive Content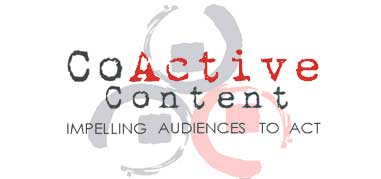 Coactive: Joint action. Any of the reciprocal actions or effects, such a symbiosis that can occur in a community.
Content: Communication arts.
CoActive Content's Mission...
CoActive Content creates, produces and distributes a broad spectrum of media content focused on entertaining, educating and activating communities. Our team is comprised of professional artists and grassroots activists dedicated to high quality work that is accessible to all people. We are committed to activating communities through art by impelling audiences to take action in their lives personally, locally and globally. We believe in nurturing the reciprocal effects artists and audiences have on one another and the symbiotic relationship that develops between them.
Every action causes a reaction and CoActive Content utilizes art to inspire change. We are dedicated to giving audiences the resources and opportunity to become deeply connected with themselves and their own communities through theater, film and live events. Our work provides exciting, educational and entertaining ways to discover the joy of participation through direct action to change lives.
Our team is comprised of veteran activists in human rights work and community organizing as well as professional artists and designers. Our productions raise awareness and funds toward creating a world that works for everyone, one community at a time. CoActives' theatrical experiences always culminate in opportunities for direct action. Our work has benefited feeding programs for the homeless, The National Latino Children's Institute and communities effected by violence across the US among others.
Led by Stacey Martino, CoAvtive Content is inspired by the work she's done as a team member of i-ACT using creativity to draw attention to global humanitarian issues. With over 20 years of experience as an activist/ organizer, actress/writer, teacher and producer CoActive Content is the culmination of a lifelong dream to create, produce and distribute media that effects real world action.
The Projects

Change Is Gonna Come

The King of the Desert
My Favorite Linkes
www.smalltownproductions.com
www.stopgenocidenow.org
www.studentpeacealliance.org
www.cnvc.org
www.thepeacealliance.org
www.wholeworldbaby.com
www.museonpac.com
The People
Stacey Martino
Stacey Martino (Founder and Artistic Director) has merged her passions for art and activism by writing, performing and producing plays, films and events focused on creating a world that works for everyone. She is a Lifetime Member of The Actors Studio. As a writer Martino has just completed her first children's book, "Footlz," which teaches children discipline through empathy and compassion rather than a system of reward and punishment. Other projects include: "If Not Me," a collection of poems about America and "Damage Assessment," a short story about her experience with The Red Cross during the 2005 hurricane season, and a solo play entitled "Refuge," about the effect genocide has on everyday people and those who stand up in the face of such atrocities; inspired by the people of Darfur and the dedicated team of volunteers she works with at www.StopGenocideNow.org.
Martino has taught acting privately for the past 12 years in Los Angeles and taught directing workshops in Los Angeles, CA for Propaganda Films and in Austin, TX for actors, teachers and directors, in addition to teaching acting workshops from 1998 – 2005 with noted educator and director Sal Romeo. She has also taught in Germany at the prestigious Neuschwanstein Theater in Munich conducting workshops for the cast of the long-running hit play, "Ludwig." She currently teaches an acting workshop in LA.
She has collaborated with director Valentino Ferreira several times in the past. The first collaboration was her critically acclaimed one person show, "A Slow Crawl Home," a true story exploring the subject of homelessness. The second was a tour of her play, "The Gift of Peace," which continues to be performed across the country. Locally the play was presented at UCLA's Freud Playhouse in 2007 under the direction of John Rubinstein, featuring 27 high profile actors dedicated to nonviolence including Ed Asner, Amy Brenneman, Frances Fisher, Dan Lauria, Amy Smart, Wendi Malick, Esai Morales and James Pickens, among others. "The Gift of Peace" is now being made into a documentary entitled, "Change Is Gonna Come," www.ChangeIsGonnaCome.com, helmed by EMMY Nominated, Director's Guild of America award winning director, Tasha Oldham.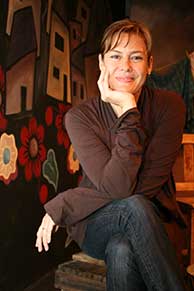 Heather Mendoza
Heather Mendoza(Director of Community Programing and Outreach) Heather is an artist, actor and designer with a deep passion for connecting and activating communities through art and entertainment.
Heather started organizing community events when looking to bring her diverse neighborhood in Echo Park together through a block party - much inspired by her travels in Europe and even more so by the neighborhood community she grew up in Columbus, OH. Inspired by the impact of these events, Heather launched the PDA (Public Displays of Art) Art Walk in Echo Park - Los Angeles' up and coming artistic neighborhood.
Heather also started Art Needs Freedom as an art, fashion and accessories label set out to inspire people to acknowledge and appreciate one another. Her philanthropic commitments include mentoring as part of the Young Story Tellers Foundation - a mentoring program for elementary and middle schools that teaches students to write short screenplays.
She recently joined CoActive Content as Director of Community Programming. Her first project on board was organizing the production of The Gift of Peace reading on Human Rights Day presented by KPCC public radio. She also performed in the reading, following her drive to put her acting background to work for projects that seek to connect communities.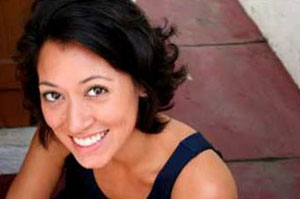 Steve Moyer
Steve Moyer (Press Representive & Marketing) Prior to starting his own entertainment publicity and marketing company in 2002, previous posts have included: Universal Studios Hollywood, where he worked in New Business Development, and Paramount Pictures where he was involved with the marketing of 13 feature films, including "Titanic," and the booking of audiences for 20 television shows, including "Frasier," "Dharma and Greg" and "Becker." At the Tony Award-winning Williamstown Theatre Festival he promoted 41 productions, including 14 World Premieres, including the record breaking 40th Anniversary Season.
Moyer had a long affiliation with the late playwright Arthur Miller, working with him on major regional productions of the first American Revival in 55 years of "The Man Who Had All The Luck," the 50th Anniversary production of "All My Sons" and the American Premiere of "The Ride Down Mt. Morgan," all of which eventually transferred to and played on Broadway. Other major regional productions Moyer has promoted which transferred to and played on Broadway or Off-Broadway include: the World Premieres of "George Gershwin Alone," "Back From Broadway" (Lincoln Center), "Keats," "Dinah Was" and "The Moonlight Room" (originally produced by The Group at Strasberg), as well as the West Coast Premieres of shows originating in New York, including: "TAPE," "Worldly Acts" (with Francis Ford Coppola's Zoetrope All-Story); "Confidentially Cole;" and "THE OHMIES!"
Moyer has promoted hundreds of theatrical productions on both the East and West Coasts, including personally working with and publicizing plays written by three Pulitzer Prize-winning playwrights: Arthur Miller, Tad Mosel and Nilo Cruz. In 2001 Moyer was inducted into the International Edition of "Who's Who of Professionals" in the world. In addition to theatre, Moyer is actively involved in promoting film and television projects, high profile award shows, dance and music events, art exhibits, celebrity books, restaurants, hotels, trade shows, parades, special events and entertainment personalities.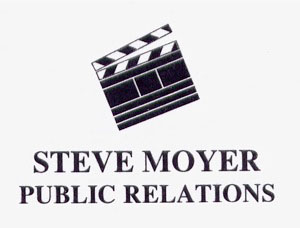 Adriana Millan
Adriana Millan (Director of Development) has always indulged in the entrepreneurial spirit. She prides herself on her relentless drive to learn and acquire new skills and experience. She owned and operated her own café, "Midnite Java" right out of high school and ran it successfully for five years, while obtaining her bachelor's degrees in psychology and criminal justice and working as an intern for a local record company. Shortly before obtaining her degrees, she began work in the children's social services and juvenile criminal justice field.
Several years later, she decided on a career change and became a working actor and a television and film production assistant /coordinator, working with various hit television shows and well-known production companies in Southern California. Being bilingual has also afforded her the opportunity to work on productions for the Spanish market.
Her prior experience working with children and her passion for the performing arts led to the creation of Museon Performing Arts Company in late 2004. It is an organization dedicated to quality performing arts education for children and teens in Greater Los Angeles and Orange County. In 2007, she completed the prestigious UCLA screenwriter's program. Through her company she has taught hundreds of children acting and writing, and has produced and directed countless musicals, plays and showcases. In 2010, she transitioned into writing, directing and producing short films with her talented students and professional actors. In addition to teaching, she currently works as a freelance editor and voiceover artist and most recently began work as the Director of Development for CoActive Content.
Adriana loves traveling and has visited numerous cities in China, Korea, Japan, Mexico, France, Italy, Switzerland, Monaco, Austria, England and Hawaii. She is a native of Los Angeles, California, where she continues to live with her husband, Christian Pettinato.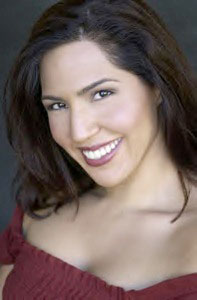 Erik J Goodrich
Erik J Goodrich (Graphic Designer/Video Manipulation) was born and raised in the Green Mountains of Vermont. He graduated from a small town high school in 1990. He attended the Art Institute of Atlanta receiving a Media Arts/Audio Engineering degree. Eventually he returned to New England, and started working for WCAX Television, a CBS affiliate in Burlington, VT. Networking, hard work and a fair amount of serendipity have found Goodrich currently working as a Videographer/Editor. He has directed local commercials, political and news promotions, and both topical and image campaigns.
He eventually branched out into the independent filmmaking field and has worked on a number of shorts and internet webisodes of Star Trek New Voyages contributing to the pioneering of web series applying production at a network scale. One 2007 episode was nominated for a Hugo Award, but lost to the british TV series "Dr. Who".
Having moved to Los Angeles in 2008, Goodrich has worked as a Production Assistant & Grip to an Editor & Director. He applies all these skills working with SmallTown Productions on the "My Story" series. He found time to work as a Field Coordinator for a reality show on MTV "If You Really Knew Me," which aired in the summer of 2010 and went on to win an A.C.E. Award and a PRISM Award which honors productions that are not only powerfully entertaining, but realistically show substance abuse and addiction, as well as mental health issues.
Also in 2010, he joined CoActive Content as an Editor, Graphic Designer and Web Content Manager to finally begin to satisfy an inner desire to further his artistic goals to include contributing to the betterment of the world around him.